How Kejriwal govt contributed to the worsening of Covid crisis in Delhi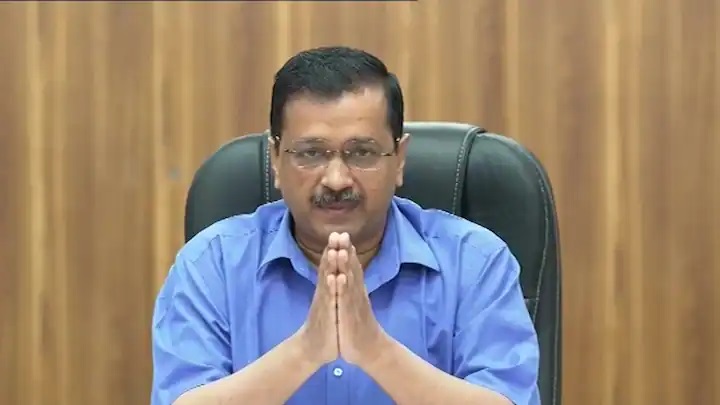 India is in the grip of a disastrous second wave of the COVID-19 outbreak. However, the pandemic's devastation is nowhere more seen than in Delhi, the national capital of India, one of the worst-hit cities by the contagion. For the last few days, Delhi has recorded more than 22,000 new cases of coronavirus daily, putting tremendous pressure on the health infrastructure. The crisis, nevertheless, has brought to fore the criminal incompetence and negligence of the Arvind Kejriwal-led Aam Aadmi Party(AAP) government.
Oxygen supplies in Delhi are running out, there is a scarcity of Remdesivir, a key drug for some COVID patients. Besides, there is also a big shortage of beds for patients in both the government and private hospitals of Delhi.
While other states have started receiving oxygen through Indian Railway's oxygen express, the Railways is yet to receive requisition from the Delhi government for the transportation of oxygen.
An RTI reply dated 8 April has revealed that the Arvind Kejriwal-led AAP government has spent more than Rs 100 crores from January 2021 to March 2021 on advertisements and publicity of their party through various online and offline mediums.
After Kejriwal's government was questioned by the High Court of Delhi one would have expected the AAP leader to address the oxygen transportation issues bedeviling the supply in Delhi. However, hours later Kejriwal did what he always does – tweets.
For the Kejriwal-led Delhi government, keeping Delhites safe from the pandemic of coronavirus was not on its priority list. It was more interested in advertising and publicity.
PM Narendra Modi is the most popular leader on the planet
According to Morning Consult, a US-based global leader approval tracker, Prime Minister Narendra Modi is the world's most popular leader, with a 77 percent approval rating.
Morning Consult Political Intelligence released its newest statistics on March 18, revealing that Prime Minister Narendra Modi has the highest approval rating among leaders from 13 nations.
PM Modi has the highest approval rating among the 13 leaders polled by the research agency, with 77 percent, followed by Mexico's Andrés Manuel López Obrador with 63 percent. Mario Draghi of Italy has a 54 percent approval rating, while Fumio Kishida of Japan has a 45 percent approval rating.
PM Modi also has the lowest disapproval rating in the country, at 17%.
From January 2020 to March 2022, the Indian Prime Minister was the most popular worldwide leader for the majority of the months. The most recent approval ratings are based on information gathered between March 9 and 15, 2022.
PM Modi's approval rating reached an all-time high of 84 percent on May 2, 2020, after only two years in office. During the second wave of coronavirus in the country, on May 7, 2021, his approval rating was at its lowest, with 63 percent. However, as compared to other world leaders, PM Modi's approval ratings have remained comparatively high.
Justin Trudeau of Canada and Joe Biden of the United States are ranked sixth and seventh, respectively, with 42 percent and 41 percent approval ratings. With a 33 percent approval rating, British Prime Minister Boris Johnson came in last among the leaders polled.
President Joe Biden's popularity ratings have plummeted to their lowest point throughout his term, currently at 41%. Due to an increase in Covid-19 fatalities and the rapid pullout of US forces from Afghanistan, Biden's reputation began to decline last year. With the US-backed conflict in Ukraine, Biden is losing further domestic support, and his popularity numbers are only anticipated to fall further.
The study, according to Morning Consult, reflects real-time data based on a seven-day moving average of all people in a specific nation, with a margin of error of +/- 3%. In the United States, the average sample size is 45,000, however, in other nations, it ranges from 3,000 to 5,000.
In each nation, the surveys are weighted by age, gender, area, and, in some cases, education breakdowns based on official government sources. In India, for example, the sample is typical of the country's literate population.
Bollywood has links with Pakistan's ISI, Many celebs are acting like puppets ? Strong investigation is needed 
In the past few days pictures of Bollywood stars posing with known anti-India activists abroad, have surfaced on social media, referring close links of Bollywood with Pakistan's spy agency ISI ( Inter-service Intelligence).
The issue got highlighted after pictures of the film star Sharukh Khan and his wife Gauri Khan appeared with the terrorist supporters, Tony Ashai and Rehan Siddique. It is to be noted here that Tony Ashai is a California-based Kashmiri separatist who allegedly instigates the youth of Kashmir to raise their voice against India and  provoking them to pick-up stones and guns against Indian security forces. While Rehan Siddique, is a Pakistani based out of Houston, who owns a radio channel where he constantly advocates terrorist activities in Kashmir. Having rich experience in the radio and music industry, he has by far organised more than 400 successful concerts with many of the biggest stars from Bollywood and South Asia attending these events. Reportedly, his radio channel is accused of running anti – India propaganda during Pulwama attack and Balakot strikes citing which he was blacklisted by the Ministry of Home Affairs recently.
Al iskandar, a well known Srinagar based activist posted a series of tweets through his Twitter handle @TheSkander saying that Tony Ashai ( also known as Aziz Ashai ) has been an active member of the Jammu & Kasmir Liberation Front (JKLF), the terror group sponsored by ISI. It is to be mentioned here that the Jammu and Kashmir Liberation Front was responsible for the killing and subsequent exodus of the Kashmir Pandits from the Kashmir Valley during 1990s. He tweeted that Tony Ashai sitting in California is provoking Kashmiri youth to pick-up arms and fight against India whereas his own son has recently graduated from Los Angeles.
Tony Ashai is also known for his affinity with current Pakistan PM Imran Khan and also other Pakistani leaders. Al iskandar published photographs of Tony Ashai's meeting with Imran Khan commenting, "Aziz Ashai (Tony Ashai) is on payroll of ISI, who is in touch with many people in Jammu and Kashmir and other parts of the country." 
Al iskandar further tweeted that Tony Ashai, a JKLF member has links with Shah Rukh Khan and his wife Gauri Khan. He said the Ashai had designed SRK's Dubai buildings and Los Angeles Apartments. SRK since 2014 had been trying to hide his love for Ashai to avoid any damage being caused to his goodwill in India.
"Tony Ashai, aka Aziz Ashai, a JKLF member who has designed SRK's Dubai buildings & Los Angeles Apartments. Ever since 2014, he has been trying to mask his love for Ashai because he knows that if this Genie is out of the box, it woulddo irreversible damage to his reputation," Al iskandar wrote on Twitter.
"SRK has used Ashai for a lot of his architecture brains. Moreover, @gaurikhan has also been involved with Ashai in a lot of her projects. This is very important to know as Ashai is a masked Peace Activist, he has been spewing venom against India on Indus News, consistently," read another tweet.
His tweet further read, "We all should bring this upto notice as it's a well documented plan for @tonyashai to use his Bollywood influence. @iamsrk is a Patriot person himself who is not aware about the Snake like Tony Ashai whom he is feeding for his business projects." Saying this Al iskandar meant that SRK is not aware about Tony Ashai's scrupulous plans.
Last month a video also had gone viral in which brother of Tony Ashai, Arthur Ashai is seen badly bullying Indians who support PM Narendra Modi. The video showcases his hatred towards Hindus, Modi supporters and PM Narendra Modi. In the video, Ashai is seen upset about an Indian calling 'Modi Zindabad' and blamed him for discriminating with Kashmiris.
Another anti-India propagandist having close relations with Bollywood stars is a Pakistan-born British businessman, Aneel Mussarat. The big fat wedding party of Mussarat's daughter was held in London in 2017. Reportedly, a number of Bollywood actors/directors/producers attended the event. Ranveer Singh, Anil Kapoor, Sonam Kapoor, Karan Johar, Sunil Shetty and Hrithik Roshan are a few of them. The wedding was also attended by Pakistan PM Imran Khan.
Twitter users have pulled out pictures of the aforesaid wedding event in which these Bollywood stars are seen dancing and enjoying with Aneel Mussarat.
Mussarat is extremely close to Pakistan PM Imran Khan, Chief of Army Staff of Pakistan Army-General Bajwa, General Director of the Inter-Services Public Relations-Asif Gaffoor.
As reported by IANS, in the light of this viral show on social media, Baijayant Panda, Vice-President of the BJP has said, "Came across shocking threads documenting personal and business links of some Bollywood personalities with certain Pakistanis & NRIs with undeniable track record encouraging violence in J&K, who have verifiable links to ISI & Pak army. I urge patriotic Bollywoodies to renounce them."
Indian public is outraged and demanding Government to carry out serious and strict investigations to bring to light the close links between Bollywood stars and the conspirer, Pakistan. The names of such anti-nationalists who fund terrorism must now be unearthed and they be punished.
Meanwhile, as per reports, Ashai has taken to Twitter and written that Indian media is peddling a conspiracy against him. He has asked the respective journalists to either produce proofs to prove the allegations made on him or apologize to him.
Navi Mumbai's Belapur's MLA Mrs Manda Tai Mhatre donated three ultra-modern ambulances to NMMC.
Smt. Manda Vijay Mhatre (popularly known as Manda tai), MLA from Belapur Constituency, donated three ultra-modern ambulances under the Local Development Program 2020-21 to Navi Mumbai Municipal Corporation (NMMC) through her MLA fund on July 20. Through this generous act Manda tai aims to help patients during the tough time of coronavirus pandemic by making ambulance available when needed by them.
On the occasion, Manda tai said that it is her foremost duty to provide good and promising healthcare to the citizens of her constituency, take proper care of their health and well-being, and their most basic needs. She added that in view of the steep rise in number of Covid-19 patients in Navi Mumbai, there was an acute shortage of ambulances as well as ventilators for which she had decided to donate 3 ambulances of worth Rs 50 lakh and another Rs 50 lakh for ventilators, and all through her MLA fund.
Manda tai mentioned, "These three ambulances include one basic life support ultra-advanced ambulance and two patient transport ambulances equipped with the latest technology and various emergency medical services like monitoring facilities, fire system, oxygen facility, emergency response flashing light." " Earlier also, I had provided three ambulances to the NMMC from my MLA fund and I will continue to help my people in the best possible way", she added.
The occasion was attended by the newly appointed NMMC Commissioner Abhijit Bangar, Navi Mumbai BJP District President Ramchandra Gharat, Former Speaker Sampat Shewale, Councillor Dr. Jayaji Nath, Additional Commissioner Sanjay Kakde, Additional Commissioner Sujata Dhole, Sunil Patil, Medical Officer of Health Dr. Balasaheb Sonawane as well as other officers and eminent citizens.
Mr. Bangar appreciated Manda tai and thanked her for helping NMMC to fight against the present crisis of the COVID outbreak. He further added that these state-of-the-art ambulances are one of the chief required facilities in current scenario and would definitely help managing the pandemic challenges in a much better and efficient way.
Drishti Bharat expresses its gratitude to respected Manda tai who has always accorded top priority to reform initiatives, extending help to her people. Her presence today is a great source of motivation to us.