Kiren Rijiju praises PM Modi for the new airport in Arunachal on his birthday
On Saturday, Arunachal Pradesh native and union law and justice minister Kiren Rijju hailed Prime Minister Narendra Modi for opening Itanagar's Donyi Polo Airport, the nation's first new greenfield airport. "Having an airport in the state capital was our ambition; thanks to PM Modi, that desire has now been realised. For the construction of this airport, he issued specific instructions," Rijiju was cited as saying by the news agency ANI.
In addition, PM Modi wished Rijiju a happy birthday and wished him a long and healthy life. "Happy birthday to our vivacious law minister, @KirenRijiju Ji. He is working hard to improve our legal system even further. He is also deeply committed to Arunachal Pradesh's development. I'm saying a prayer for him long and healthy life," tweeted Modi.
The border state will be connected to other Indian cities with commercial flights as well as other areas of Arunachal Pradesh through helicopter services thanks to Donyi Polo Airport, the first greenfield facility in the northeastern state, which is situated at Hollongi, about 15 kilometres from the state capital Itanagar.
PM Modi lay the airport's foundation stone in February 2019.
Approximately 690 acres of land have been created for the airport at a cost of over 640 crore. The airport is excellent for daytime operations in all conditions because to its 2,300 m runway.
There will be eight check-in desks, and at rush hour, it can hold 200 passengers. The state of Arunachal Pradesh lacks an airport. The closest facility is in Lilabari Airport in Assam's north Lakhimpur district, which is 80 kilometres distant.
The state has a few high-tech landing areas, notably those at Pasighat and Tezu. Donyi Polo Airport, which is 4,100 square metres in size, will be furnished with all contemporary amenities for travellers.
PM Modi declared that the government is committed to helping the north-east area after the airport's official opening. The development of the north-east has become our top goal, the prime minister remarked, from culture to agriculture, from business to connectivity.
The airport's name pays homage to Arunachal Pradesh's customs, rich cultural legacy, and long-standing indigenous veneration of the Sun (known locally as "Donyi") and the Moon (known locally as "Polo").
Panvel launches an initiative against single-use plastic
On the occasion of World Environment day, a Campaign Opposing single-use plastic was launched in Navi Mumbai.
The Campaign
In honour of World Environment Day, the 'Single Plastic Free Panvel' campaign was officially launched at the Adya Kranti veer Vasudev Balwant Phadke Auditorium, Panvel. PCMC representatives, Members of numerous social organisations, residents, Municipal officers, & many other guests were present for the campaign launch.
Shree Ganesh Deshmukh, the PCMC Commissioner, during the campaign highlighted that public support is necessary to the implement ban on single-use plastic carry bags. He further highlighted that NGO social organisations & people must Cooperate in order to prohibit the ban.
MLA Shree Prashant Thakur praised the joint initiative of the Panvel Municipal Corporation, Bharat Vikas Parishad & other NGOs in tackling environmental challenges. He further praised & highlighted the accomplishments of Panvel City Municipal Corporation Under the direction of Commissioner & Administrator Shree Ganesh Deshmukh & complimented their victory in different Competitions.
For the Tirupati Balaji temple replica in Navi Mumbai, TTD conducts bhoomi pooja
On Wednesday, the Tirumala Tirupati Devasthanams (TTD) ceremoniously performed the bhumi pooja in preparation for the building of a copy of the Tirupati Balaji temple in Navi Mumbai, Maharashtra. The pooja was performed according to the agama shastras by priests and representatives from the Tirumala Tirupati Devasthanams.
The bhumi pooja ritual was attended by Maharashtra Chief Minister Eknath Shinde, Deputy Chief Minister Devendra Fadnavis, and other members of their cabinet. It was a Maharashtrian's dream come true, Eknath Shinde told reporters. "Today is a particularly significant day for Maharashtra since the duplicate of the Tirupati Balaji mandir is about to be built in Navi Mumbai. Not everyone has the good fortune to travel to Tirumala to see Balaji.
Therefore, the new temple would fulfil the aspiration of the Maharashtrian people to see Sri Balaji Venkateswara in Mumbai, according to Shinde.
With the assistance of donor devotees, the Tirupati trust would invest over Rs 75 crore in the construction of this new temple. You might remember that the TTD trust board decided a few years ago to build a new Balaji temple in Mumbai. Ten acres of land were given to the Tirupati trust by the Maharashtra government last year for the construction of the new temple. The Tirupati trust held the ceremony to lay the cornerstone for its new temple in Navi Mumbai on Wednesday after overcoming obstacles connected to CRZ laws and obtaining all necessary clearances.
NMMC celebrates World Environment Day with residents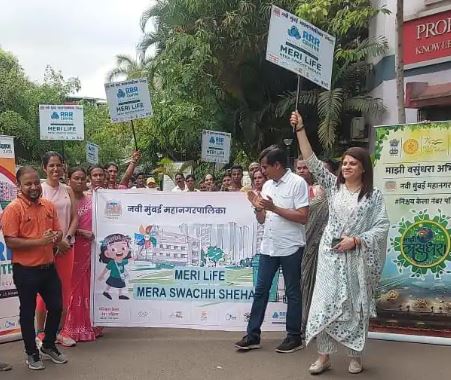 In Navi Mumbai, NMMC observed the World Environment day.
The Environment day
The Navi Mumbai Municipal Corporation (NMMC) organised a number of events around the city to celebrate World Environment Day, providing environmental awareness & enlisting the involvement of thousands of residents.
Third-party organisation officials, NCC & NSS students along with Members of the let's Celebrate Fitness institute met to take a collective pledge for the Majhi Vasundhara Abhiyan at the Karmaveer Bhaurao Patil College a.k.a Modern College. The event featured a clean-up drive & a rally in Vashi for environmental awareness, Present were NMMC additional Commissioner Shreemati Sujata Dhole, Dr. Babasaheb Rajale, Dr. Amit Kumar Sondge, Prof. Sarang of K.B.P college, Prof. Nagore of Jhunjhunwala College, Shree Sudhir Potphode, along with Supervisors, sanitation Workers & many other officials.  
Yulu e-bikes, which are zero-emission vehicles, we're featured in a special awareness rally that travelled from Jewel of Navi Mumbai to Nerul & Belapur regions. In addition, Additional Commissioner Shreemati Sujata Dhole & Deputy Commissioner Dr. Babasaheb Rajale of the Solid Waste Management Department actively participated in the rally.