According Prime Minister Modi, Electricity should no longer be received for free
In an apparent attempt to fight the Aam Aadmi Party and the Congress over their pledge of free power in poll-bound Gujarat, Prime Minister Narendra Modi said on Thursday that it was time to make money from electricity rather than receiving it for free.
Speaking during an election rally in Modasa, a town in the Aravalli area of north Gujarat, Modi said that only he is skilled in the art of enabling people to profit from energy.
The PM also attacked the Congress, claiming that it adheres to the "divide and rule" philosophy and is solely concerned with gaining and maintaining power.
Arvind Kejriwal, the national convener of the AAP and the chief minister of Delhi, has been attempting to win over voters by promising that if his party were elected to power in the Bharatiya Janata Party-ruled Gujarat, it would provide free electricity up to 300 units per month, just like it does in the national capital and Punjab.
On several occasions, Kejriwal has asserted that he is the only politician in the nation to have "mastered this miracle of supplying free power."
The opposition Congress has jumped on board and stated in its election platform that if elected to power in Gujarat, where the Assembly elections are set for December 1 and 5, the party will likewise offer free energy up to 300 units.
Gujarat PM Narendra Modi says he wants to see people earning money from electricity generated from solar rooftop systems instead of getting it for free. "Only Modi knows this art wherein people will be able to earn from electricity," he tells an event in Modhera, a village in Mehsana district.
He reminded the residents of Aravalli that during the Congress era, farmers in this district had been murdered by police when they demanded inexpensive energy for agricultural purposes.
According to the PM, farmers are increasingly producing their own power by installing solar panels on underused farmland areas.
"Additionally, they may make money by selling extra power. The day when people want inexpensive power is over. Today, selling power is a viable source of money "explained he.
At the time, Modi also attacked the Congress, claiming the opposition group solely adheres to the "divide and rule" philosophy and only considers how to get power.
"Has there been any progress in Rajasthan, a state that is close to your border? Have you heard any encouraging news about that region? Development cannot be done by the Congress "he said.
Panvel launches an initiative against single-use plastic
On the occasion of World Environment day, a Campaign Opposing single-use plastic was launched in Navi Mumbai.
The Campaign
In honour of World Environment Day, the 'Single Plastic Free Panvel' campaign was officially launched at the Adya Kranti veer Vasudev Balwant Phadke Auditorium, Panvel. PCMC representatives, Members of numerous social organisations, residents, Municipal officers, & many other guests were present for the campaign launch.
Shree Ganesh Deshmukh, the PCMC Commissioner, during the campaign highlighted that public support is necessary to the implement ban on single-use plastic carry bags. He further highlighted that NGO social organisations & people must Cooperate in order to prohibit the ban.
MLA Shree Prashant Thakur praised the joint initiative of the Panvel Municipal Corporation, Bharat Vikas Parishad & other NGOs in tackling environmental challenges. He further praised & highlighted the accomplishments of Panvel City Municipal Corporation Under the direction of Commissioner & Administrator Shree Ganesh Deshmukh & complimented their victory in different Competitions.
For the Tirupati Balaji temple replica in Navi Mumbai, TTD conducts bhoomi pooja
On Wednesday, the Tirumala Tirupati Devasthanams (TTD) ceremoniously performed the bhumi pooja in preparation for the building of a copy of the Tirupati Balaji temple in Navi Mumbai, Maharashtra. The pooja was performed according to the agama shastras by priests and representatives from the Tirumala Tirupati Devasthanams.
The bhumi pooja ritual was attended by Maharashtra Chief Minister Eknath Shinde, Deputy Chief Minister Devendra Fadnavis, and other members of their cabinet. It was a Maharashtrian's dream come true, Eknath Shinde told reporters. "Today is a particularly significant day for Maharashtra since the duplicate of the Tirupati Balaji mandir is about to be built in Navi Mumbai. Not everyone has the good fortune to travel to Tirumala to see Balaji.
Therefore, the new temple would fulfil the aspiration of the Maharashtrian people to see Sri Balaji Venkateswara in Mumbai, according to Shinde.
With the assistance of donor devotees, the Tirupati trust would invest over Rs 75 crore in the construction of this new temple. You might remember that the TTD trust board decided a few years ago to build a new Balaji temple in Mumbai. Ten acres of land were given to the Tirupati trust by the Maharashtra government last year for the construction of the new temple. The Tirupati trust held the ceremony to lay the cornerstone for its new temple in Navi Mumbai on Wednesday after overcoming obstacles connected to CRZ laws and obtaining all necessary clearances.
NMMC celebrates World Environment Day with residents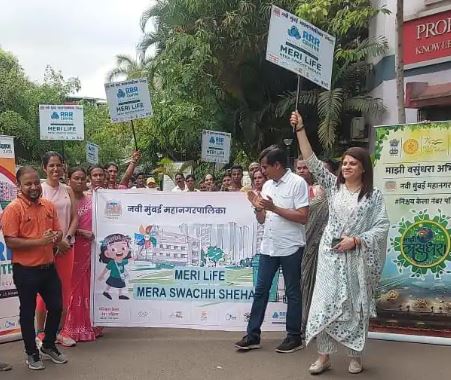 In Navi Mumbai, NMMC observed the World Environment day.
The Environment day
The Navi Mumbai Municipal Corporation (NMMC) organised a number of events around the city to celebrate World Environment Day, providing environmental awareness & enlisting the involvement of thousands of residents.
Third-party organisation officials, NCC & NSS students along with Members of the let's Celebrate Fitness institute met to take a collective pledge for the Majhi Vasundhara Abhiyan at the Karmaveer Bhaurao Patil College a.k.a Modern College. The event featured a clean-up drive & a rally in Vashi for environmental awareness, Present were NMMC additional Commissioner Shreemati Sujata Dhole, Dr. Babasaheb Rajale, Dr. Amit Kumar Sondge, Prof. Sarang of K.B.P college, Prof. Nagore of Jhunjhunwala College, Shree Sudhir Potphode, along with Supervisors, sanitation Workers & many other officials.  
Yulu e-bikes, which are zero-emission vehicles, we're featured in a special awareness rally that travelled from Jewel of Navi Mumbai to Nerul & Belapur regions. In addition, Additional Commissioner Shreemati Sujata Dhole & Deputy Commissioner Dr. Babasaheb Rajale of the Solid Waste Management Department actively participated in the rally.