UK woman found chicken head in her fried chicken KFC Meal
Kentucky Fried Chicken (KFC) is a fast-food chain that is immensely popular across the globe. The delicious fried chicken wings are one of its signature and trademark recipes, with a unique mix of herbs and spices. However, one KFC customer in the UK was left aghast to find a fried chicken head in her hot wing meal. The woman, Gabrielle, posted a review on 3rd December 2021 and even shared a disgusting picture of the unwanted element in her meal. The pictures were widely circulated on social media, including Twitter as well.
Instagram users too reacted to the picture, expressing their disgust and horror on seeing the image of the fried chicken head. Meanwhile, KFC UK also took cognizance of the fried chicken head picture being circulated on social media. They said that the UK woman's review was probably the most generous 2-star review ever. According to their statement, the images were 'shocking' and 'baffling' for the brand.
KFC said that they had put together a team to investigate the matter. "Even the best-laid plans – on rare occasions – go awry. And this is an incredibly rare one," they wrote. KFC further assured that they had proper checks and measures in place after the incident, in order to prevent any such incident from happening in the future. Meanwhile, the UK lady Gabrielle was invited for a free KFC meal and also got to see the kitchen processes to allay her fears. "We hope Gabrielle will be back leaving us 5-star reviews soon," they concluded.
Nepal Airlines to lease or sell its six Chinese aircraft due to poor performance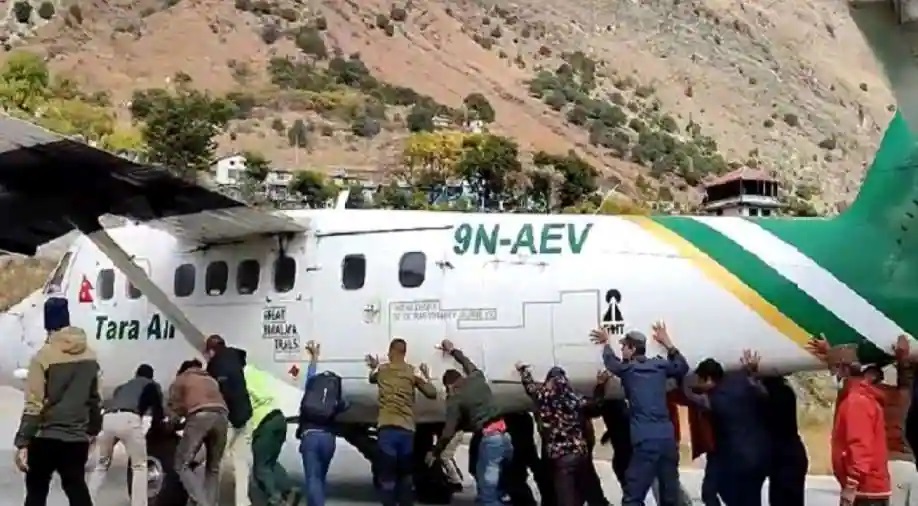 Due to poor performance and reduced functionality, Nepal's aircraft purchased from China in 2014 have now become a burden. Nepal Airlines is considering leasing or selling its six grounded Beijing-made planes as a result of this, according to news agency ANI, citing a storey by The HK Post.
According to the research, the sale of these planes benefited only China while trapping Nepal in a vicious debt cycle. Nepal had borrowed much to purchase the Chinese-made aircraft, but it was unable to be used due to high maintenance costs, putting the country in a financial bind.
Nepal is attempting to sell six Chinese planes, two Xian MA60S and four Harbin Y12S. Because they were costing more to run than they were making, Nepal Airlines decided to discontinue flying them in July 2020.
A committee has been formed to assess the lease fee, according to Nepal Airlines managing director Dim Prasad Poudel, and they are expected to provide a report within a week. The report will then be presented to the board for approval. Prospective bidders (both domestic and international) will present their offers when the board has approved them.
"Nepal Airlines will pursue the first of the two alternatives advised by the Finance Ministry—dry lease or outright sale. We'll put ourselves up for sale if there are no takers. Both solutions appear to be onerous, but we have no other options," Poudel remarked. According to local daily The Kathmandu Post, which cited Nepal Airlines officials, "dry lease" means the owner will just supply the aircraft to the bidding business, without the pilot or crew.
After Nepal Airlines restated its stance on Chinese-manufactured planes, noting that the planes have suffered huge losses since their purchase in 2014, the decision was made.
These flights were purchased by Nepal in 2014 from China. All of Nepal Airlines' Chinese planes, including two Xian MA60s and four Harbin Y12s, were grounded in July 2020. Because Nepali airlines could not afford to fly the planes, they were grounded.
Since then, the airline has been struggling to repay a loan with a 1.5 percent annual interest rate, a 0.4 percent service charge, and 0.4 percent administrative expenses deducted by the Nepal Finance Ministry. Because the jets are owned by the Finance Ministry and operated by Nepal Airlines, the ministry charges the airline an annual interest rate of 8% on the disbursed loan.
The Y12 aircraft has long been questioned for its functionality and performance, according to a Nepal Airlines board member, who also stated that the deal with China was the carrier's "worst mistake."
The agreement was reached in 2012, and the planes were handed to Nepal in 2014, 2017, and 2018, respectively. Two years later, Nepal received two gifts (one MA60 and one Y12). The arrangement was pushed through despite Nepal's incapacity to carry out major maintenance work and a dearth of qualified employees and crew/engineers.
These aircraft's warranty period expired this year, but they remain grounded.
China sold these planes to Nepal nine years ago but did not help the country build the capacity to operate them. Nepal Airlines still lacks the trained crew/engineers as well as the technical support required to do major maintenance on these planes. Replacement components and Life Limited Parts are necessary for at least three years to assure proper operation of these planes, according to the research.
When the sale of the aircraft began in November 2011, technical teams from Bangladesh and Nepal visited China to inspect the MA60s and Y12s. While Bangladesh considered the planes "unsuitable," Nepal went ahead and inked a contract with China's Aviation Industry Corporation (AVIC) to buy six planes. According to the article, Nepal appears to have been forced to buy the plane.
However, AVIC has reportedly served notice on Nepal Airlines Corporation (NAC) to settle all costs incurred on the procurement of spare parts, training, technical support, and instrument purchase/installation before NAC considers re-operating these planes.
Pakistan's low-quality Made In China missiles are 'not working,' just like the Chinese planes in Nepal.
Chinese is infamous for producing low-quality equipment that requires a lot of upkeep. The low-quality Chinese-made Low-to-Medium Altitude Air Defense System (LOMADS) LY 80 missiles, which Pakistan inducted on March 12, apparently did not work, according to OpIndia in July. Pakistan has placed the LOMADS at nine different places across the country, and a Chinese technical team was dispatched to each of them to repair the systems. Pakistan has inked a contract with China for six additional Air Defense Systems, as it is anxious for them.
These are the most online ordered food in 2021
Indians ordered 115 Biryanis per minute and samosas equal to the population of New Zealand, online food ordering and delivery platform Swiggy revealed in its annual report – 'Swiggy StatEATstics 2021'.
Biryani once again emerged as the most favourite dish on an online platform with over 6 crore orders, that was 115 biryanis per minute or 2 (1.91) biryanis per second. In 2020, 90 biryanis were ordered per minute.
The most binged snack of the year was the samosa with about 5 million orders on Swiggy. The desi samosa was ordered 6 times more than chicken wings, the report said. Pav bhaji was India's second favourite snack with 2.1 million orders.
Chicken biryani was ordered 4.3 times more than veg biryani and over 4.25 lakh new users made their Swiggy debut by ordering the former, the report said.
However, while chicken biryani topped the charts in Chennai, Kolkata, Lucknow and Hyderabad, Mumbai ordered twice as many dal khichdi as compared to chicken biryanis. Chennai turned out to be the most generous city where a Swiggy delivery partner was tipped ₹6000 for a single order.
According to the report, Bangalore emerged as the most health-conscious city followed by Hyderabad and Mumbai. It observed that India eats the healthiest on Mondays and Thursdays.
Have Healthy Food On A Tight Budget
When money is tight, one of the simplest traps to fall into is eating unhealthy meals. After all, healthy foods appear to be so costly. There are, however, ways to save money while eating more nutritious foods. Yes, you can feed your family well without going to the ramen noodle department of the grocery store.
What's the concept here? Planning.
Your life can be so chaotic, whether you work at home or outside the home, that ordering pizza or cooking prepared convenience dishes seems like a better option. These, on the other hand, are usually far less healthful than those prepared at home.
Begin by selecting the recipes you want to prepare. If you plan ahead of time what you'll serve, you'll be less likely to choose something less healthy but easier to prepare just because you don't feel like cooking the healthier cuisine.
If you're short on time, look for dishes that you can prepare partially or completely ahead of time. Some people cook an entire week's worth of meals in one day and store them in the refrigerator or freezer. Even if you can't completely prepare the dish ahead of time, cutting the vegetables ahead of time is a good idea.
Making a meal plan ahead of time might also help you save money on groceries. Create a shopping list based on your plans. You can wish to plan your meals at the same time as your shopping list by looking at what's on sale in the grocery stores you'll be visiting. You may save a lot of money by purchasing things that are on sale. It's possible that you'll need to stock up on supplies.
Limit yourself to what is on the list to save as much as possible. There will be no impulse purchases! Cutting back on spontaneous purchases requires self-control, but it may be extremely beneficial.
Seasonal fruits and vegetables may appear to be pricey, but they are actually quite reasonable and can be a great alternative to sugary or salty snacks. Their frozen cousins are also nutritious and maybe less expensive.
If you have room in your freezer, buy meats when they are on sale. You'll want to keep track of what a reasonable price for each type of meat is. You'll also want to be aware of when things are reduced in price.
Utilize your leftovers to the fullest extent possible. It's all too easy to forget about them and end up cleaning out the fridge a few days later. You are wasting money when you waste food. Lunch can be made with the leftovers.
Last but not least, pay attention to how you prepare your food. For example, you might not require as much oil as you've been using. Stir-frying is a terrific technique to combine meat and veggies with a tasty sauce. When cooking ground beef, drain the fat to make it healthier. Trim extra fat from other meats to improve their nutritional value. Also, remember to eat your vegetables! Instead of butter, try combining them with spices. there are many delicious methods to bring out the tastes of vegetables.