A memorial auditorium for late Mulayam Singh Yadav has been announced by Balia BJP MP Virendra Singh
In honour of the late Samajwadi Party (SP) founder Mulayam Singh Yadav, BJP MP Virendra Singh declared on Tuesday that an auditorium will be built in his district. For the building of the auditorium, which will be called "Dhartiputra Mulayam Singh Yadav," the BJP MP has authorised the use of Rs 25 lakh from his Member of Parliament Local Area Development (MPLAD) money.
It has been referred to as MP Singh's homage to Mulayam Singh Yadav's contributions to national politics and his efforts to improve the underprivileged.
Mulayam's efforts were recalled by Virendra Singh, who praised the SP patriarch as a charismatic leader. He was praised for being a grassroots figurehead who understood the concerns of the populace.
He put forth a lot of effort and gave his all to the ideologies of Jayaprakash Narain and Ram Manohar Lohia. In the field of national politics, he found a niche. He served as an exemplary soldier during the Emergency. In his capacity as defence minister, Mulayam Singh strove to maintain national security. He continued, "He used to prioritise advancing national interest in Parliament.
Interestingly, SP Rajya Sabha Member Chandrapal Singh recently said that a museum and library will be erected in Jhansi to honour the late SP leader Mulayam Singh Yadav's contributions to development in Bundelkhand while serving as the state's chief minister.
On October 10, 2022, at the age of 82, Mulayam Singh Yadav, the founder of the Samajwadi Party and a former chief minister of Uttar Pradesh, passed away from a disease. Yadav passed away in Gurugram, Haryana's Medanta Hospital, where he had been hospitalised due to poor health.
Panvel launches an initiative against single-use plastic
On the occasion of World Environment day, a Campaign Opposing single-use plastic was launched in Navi Mumbai.
The Campaign
In honour of World Environment Day, the 'Single Plastic Free Panvel' campaign was officially launched at the Adya Kranti veer Vasudev Balwant Phadke Auditorium, Panvel. PCMC representatives, Members of numerous social organisations, residents, Municipal officers, & many other guests were present for the campaign launch.
Shree Ganesh Deshmukh, the PCMC Commissioner, during the campaign highlighted that public support is necessary to the implement ban on single-use plastic carry bags. He further highlighted that NGO social organisations & people must Cooperate in order to prohibit the ban.
MLA Shree Prashant Thakur praised the joint initiative of the Panvel Municipal Corporation, Bharat Vikas Parishad & other NGOs in tackling environmental challenges. He further praised & highlighted the accomplishments of Panvel City Municipal Corporation Under the direction of Commissioner & Administrator Shree Ganesh Deshmukh & complimented their victory in different Competitions.
For the Tirupati Balaji temple replica in Navi Mumbai, TTD conducts bhoomi pooja
On Wednesday, the Tirumala Tirupati Devasthanams (TTD) ceremoniously performed the bhumi pooja in preparation for the building of a copy of the Tirupati Balaji temple in Navi Mumbai, Maharashtra. The pooja was performed according to the agama shastras by priests and representatives from the Tirumala Tirupati Devasthanams.
The bhumi pooja ritual was attended by Maharashtra Chief Minister Eknath Shinde, Deputy Chief Minister Devendra Fadnavis, and other members of their cabinet. It was a Maharashtrian's dream come true, Eknath Shinde told reporters. "Today is a particularly significant day for Maharashtra since the duplicate of the Tirupati Balaji mandir is about to be built in Navi Mumbai. Not everyone has the good fortune to travel to Tirumala to see Balaji.
Therefore, the new temple would fulfil the aspiration of the Maharashtrian people to see Sri Balaji Venkateswara in Mumbai, according to Shinde.
With the assistance of donor devotees, the Tirupati trust would invest over Rs 75 crore in the construction of this new temple. You might remember that the TTD trust board decided a few years ago to build a new Balaji temple in Mumbai. Ten acres of land were given to the Tirupati trust by the Maharashtra government last year for the construction of the new temple. The Tirupati trust held the ceremony to lay the cornerstone for its new temple in Navi Mumbai on Wednesday after overcoming obstacles connected to CRZ laws and obtaining all necessary clearances.
NMMC celebrates World Environment Day with residents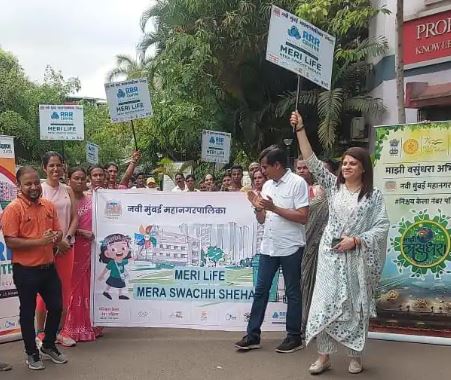 In Navi Mumbai, NMMC observed the World Environment day.
The Environment day
The Navi Mumbai Municipal Corporation (NMMC) organised a number of events around the city to celebrate World Environment Day, providing environmental awareness & enlisting the involvement of thousands of residents.
Third-party organisation officials, NCC & NSS students along with Members of the let's Celebrate Fitness institute met to take a collective pledge for the Majhi Vasundhara Abhiyan at the Karmaveer Bhaurao Patil College a.k.a Modern College. The event featured a clean-up drive & a rally in Vashi for environmental awareness, Present were NMMC additional Commissioner Shreemati Sujata Dhole, Dr. Babasaheb Rajale, Dr. Amit Kumar Sondge, Prof. Sarang of K.B.P college, Prof. Nagore of Jhunjhunwala College, Shree Sudhir Potphode, along with Supervisors, sanitation Workers & many other officials.  
Yulu e-bikes, which are zero-emission vehicles, we're featured in a special awareness rally that travelled from Jewel of Navi Mumbai to Nerul & Belapur regions. In addition, Additional Commissioner Shreemati Sujata Dhole & Deputy Commissioner Dr. Babasaheb Rajale of the Solid Waste Management Department actively participated in the rally.