Flights delayed due to heavy rain and water logging at Delhi IGI Airport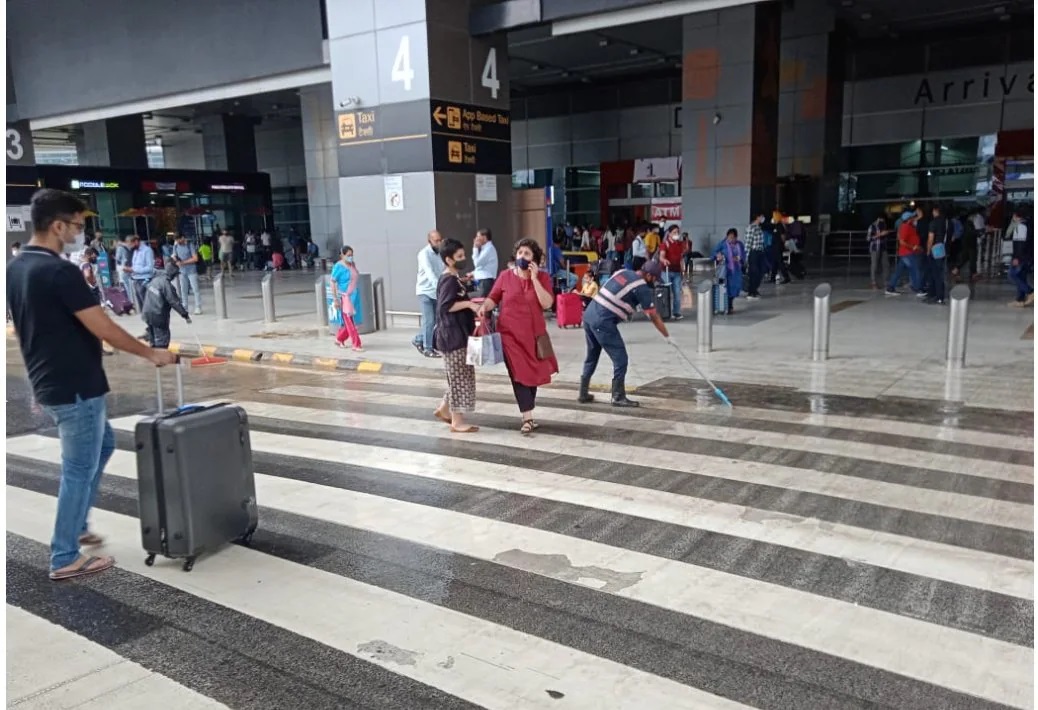 Airport authorities in Delhi had to deploy pumps on Saturday after the forecourt of Terminal 3 was waterlogged following heavy rains on Saturday morning.
Responding to videos and complaints on Twitter, the Delhi Airport tweeted, "We regret the inconvenience caused. Due to sudden heavy rain, for a short period, there was waterlogging at the forecourt. Our team was immediately aligned to look into it and the issue has been resolved." They attached a few photos of Terminal 3 after the issue had been resolved.
An airport source said that there had been a heavy spell within a short period, which lead to the waterlogging. Once the pumps were deployed, the water receded within half an hour.
Due to the heavy rain, at least five flights had been diverted from Delhi. Four of these flights — one from Kolkata and three from Mumbai — had been diverted to Jaipur. A flight from Dubai had been diverted to Ahmedabad.
Airlines issued advisories stating that flight departures and arrivals are likely to be affected due to bad weather in Delhi. They asked passengers to check the status of their flights online.
The World's First Airports
The first airfields were built on open places such as racetracks, golf courses, polo fields, and fairgrounds. These provided flat, smooth surfaces with consistent winds, which were necessary for the first gliders and fixed-wing aircraft to take to the air.
Kill Devil Hills, North Carolina, was a favourite choice for early controlled and powered flights, along with spots on prairies or near water where winds could be expected.
While the Wright Brothers' revolutionary 1905 flights of the Flyer 3 were viewed at Huffman Prairie near Dayton, Ohio, and Louis Blériot's pre-1910 flying models were seen at the Champ de Maneuvres in Issy-les-Moulineaux, neither of these venues enabled passenger flights.
Around Germany, the first airports were built in 1910, largely for the Delag-operated Zeppelin airships. From 1913, Delag built airship sheds in a number of German towns near rail terminals. Passengers and airship maintenance might be handled by them. Prior to the outbreak of World War I in 1914, these airports served about 34,000 passengers on 1,600 flights.
The United States had 20 airports by 1912, most of them were converted from fields and country clubs. For example, 67 military airfields were built on farms and parks during World War I, with the expectation that most of them would be transformed when the war ended.
In South Florida, a waterside structure was converted to cater to passengers and aircraft supplies in an unsuccessful effort at passenger service in 1914. By the end of WWI, 980 fields had been designated as official airfields. However, unfavourable golf courses and insufficient racetracks rendered the majority of them inaccessible to planes.
On May 15, 1918, the first regular airmail flight took conducted on a polo field in downtown Washington, D.C. As "aerial garages," also known as hangars and repair shops, dry Nevada lake bottoms, petrol stations situated along highways, and even packing boxes that stored aeroplane cargo functioned as "aerial garages." The military parade grounds of Le Bourget and Tempelhof were turned into airports after World War I.
Between New York and Chicago, US Postmaster Otto Praeger built five air stations, including emergency pauses, by 1919. The federal government persuaded local Chicago businesspeople to pay $15,000 to a $15,000 hangar in exchange for prospective passenger travel earnings.
Passengers travelling by Aeromarine West Indies Airways between Key West, Florida and Havana, Cuba were the first scheduled international flights in the United States in 1920. By the end of 1920, there were 145 airports around the country, and the airport system was steadily taking shape.
Two perpendicular runways and a tower with a 500,000-candlepower light beacon were standard features of early Post Office air stations. By 1924, these stations had grown into square designs measuring 2,000 feet by 2,000 feet, allowing for multi-directional takeoff and landing regardless of wind.
To aid drainage, airport fields were generally 70 to 100 acres in size, with gravel or cinder coated surfaces. The fields were often sparse, with only one hangar and the minimal necessities like gasoline and oil storage, as well as a telephone connection, all spread apart to avoid fires or crashes. The majority were based on the square postal air station design, although there were also perpendicular T-shaped strips and rectangles.
Pilots depended on airmarking to fly during the day from the 1930s until World War II. Rooftops or slopes were clearly marked to facilitate navigation and identification of airports. Instead, the 50,000-candlepower beacons were employed to fly at night.
In Canada, the expansion of airports was gradual at first, but by 1930, there were 77 airports, up from 37 in 1922. The Prairie Air Mail Service began service between Winnipeg and Calgary and Edmonton in January 1927, when the city's older municipal airport opened.
Airports continued to expand around the world. By April 1936, Australia had 181 public airports with passenger flights and support capabilities. On top of that, there were 200 authorised open landing spots. The Soviet Union possessed a vast airport network that connected Moscow, Nizhny Novgorod, Leningrad, Kiev, and Tashkent, all of which were located north of Afghanistan. By 1975, the Soviet airline Aeroflot had the world's largest domestic flight network, serving over 500 million passengers.
The first laid hard-surfaced runway in the United States was formally presented on October 1, 1928, in Newark, New Jersey, despite the majority of airlines preferring to fly from grass or water, and maybe protests from Henry Ford. The length of it was 1,600 feet. Pan Am was the first airline in the United States to construct its own airport, Pan American Field, in 1929. Eastern Airlines was given a portion of the 116-acre field as a rental. In 1930, Pan Am employed a radio station for Morse code signalling as a forerunner of radio communication between aeroplanes and ground crews.
In 1938, the Berlin Zentralflughafen Tempelhof was widely acknowledged as one of the world's largest structures. The Tempelhof roof could hold 100,000 spectators observing airline arrivals and departures, with simultaneous boarding facilities for 300 flights and a handling capacity of 300,000 passengers yearly. Countless airports tried to cash in on the public's burgeoning interest in flying by copying its practise of charging visitors entry fees.
Travel Guide: A Guided Tour of London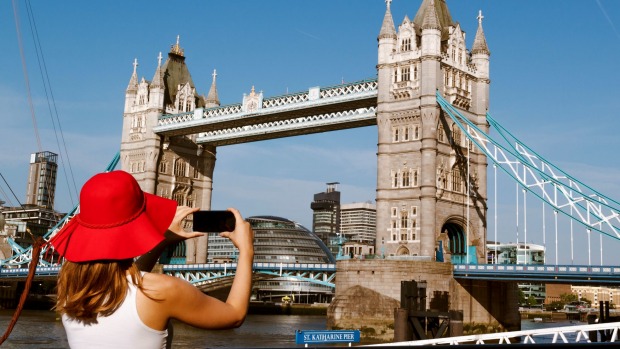 It's reasonable to assume that the city of London has so much to see that taking one of their numerous guided tours may be the only way to see it all. It is a city in England built along the Thames River with a two-millennia-old history. The most difficult element of taking a guided tour of London is deciding where to begin.
To get a sense of the area, you might wish to take a double-decker red bus tour. It's a low-cost tour, and you get to choose how you want to spend your time. Another enjoyable tour is one that takes you to all of London's afternoon tea establishments.
Does nobody say you can't eat just one of those delectable scones with jam and clotted cream?
Many London guided tours include a visit to St. Paul's Cathedral, one of London's tallest structures, and the site of Princess Diana and Prince Charles' 1981 wedding. The whispering gallery and the tombs of many renowned people from London's past are open to visitors. The Abbey in Westminster is very lovely, and it was where Princess Diana's burial was held.
Most trips in London include visits to Buckingham Palace, the official residence of the Queen of England, as well as the renowned "changing of the palace guard." It's rather touristic, but it's worth mentioning that you've been. Kensington Palace is surrounded by beautiful gardens and was once the residence of Prince Charles and Princess Diana. Nearby parks such as Hyde Park, Kensington Gardens, and Holland Park Gardens are ideal for meeting up with fellow travellers or taking a short walk.
No London guided tour is complete without a visit to Big Ben, iconic London Bridge, and the renowned Tower of London.
The Tower of London would be an excellent site to disembark and enjoy a leisurely tour of the area. The Tower of London has held many offenders and served as the execution site for some famous persons, most notably Anne Boleyn, Henry VIII's second wife. The vault storing England's crown jewels is perhaps the most magnificent site to visit within the tower. In a gloomy area, visitors ride a conveyor belt that illuminates the gleaming diamonds.
Unless you're fortunate, you'll be taking one of the London guided tours that include a visit to the British Museum.
The British Museum, unquestionably one of the best museums in the world, holds largely stolen (stolen) items from all around the world, including a large number of Egyptian artefacts. The famous Rosetta Stone, as well as historic treasures brought back from ancient Rome, Greece, and Egypt, may be seen up and personal. Spend as much time as possible inside the museum if your tour guide permits it, as there are items you'll never see anywhere.
Maybe you have some free time at night? Take in a play, a musical, or even get group tickets to see the Royal Ballet if you're on one of the London guided tours that lasts a few days. Maybe you'll all be able to acquire seats to an international film premiere in Leicester Square. Furthermore, many commercial districts stay up late, and there are several restaurants to choose from to complete your tour of this lively city.
An India Nature Tour and Hiking Trip That You Will Never Forget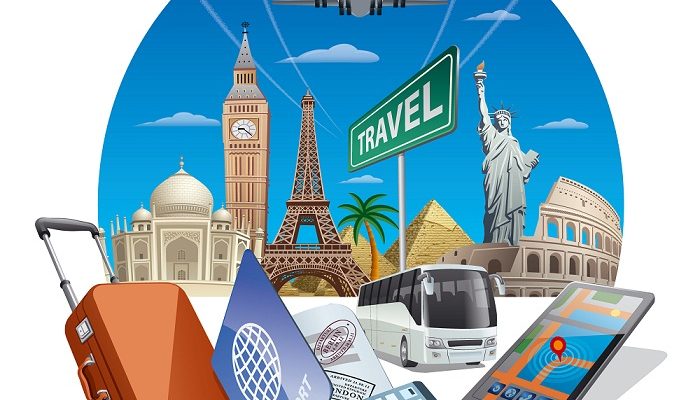 Why do so many visitors return to India time and time again? The country is rich in tradition and culture, and there are several scenic and adventurous locations around the country. This is the ultimate experience that you should not miss if you are planning an India wildlife trip and trekking experience.
India is one of the few nations that provides travellers with a diverse choice of trip options. During your India tour, you will undoubtedly have an unforgettable and awe-inspiring adventure. If you enjoy trekking, the Himalayan range in India is a great place to go. You may participate in various adventure activities such as river rafting, mountaineering, trekking, and climbing while on a hiking excursion in the Himalayas. Aside from that, you may go on a wildlife trip while trekking in the Himalayas because there are animal sanctuaries and flowering woods there. Hikers may experience the wonders of nature, such as breathtaking vistas and waterfalls.
A perfect hiking trip will supply you with all of the attractions and enjoyment that you desire. When you're hiking in the woods, you may sense an unseen force pulling you closer to the objects around you. This trip may be enjoyed by anyone who isn't an expert hiker. All you have to do is make sure your own stamina can survive the weather conditions while trekking. If you intend on trekking in the Himalayas, make sure you have a guide with you, especially if it is your first trip there.
You may also explore India's wildlife reserves in addition to hiking. In India, there are over 80 national parks and over 500 wildlife sanctuaries. In Madhya Pradesh (Bandhavgarh sanctuary and Kanha), Rajasthan (Ranthanbore and Sariska), and Uttar Pradesh (Ranthanbore and Sariska), you may visit the most prominent wildlife sanctuaries (Dudhwa and Corbett Park). It is preferable to join safari trips and trekking expeditions to appreciate these wildlife places.
Visit Keoladeo Ghana if you enjoy bird viewing, and Ranthobore Park in Rajasthan if you want to see tigers. Wildlife excursions allow you to have a closer look at nature and discover how animals coexist together.
India is a country that is deeply religious. Their culture is characterised by mutual respect and harmony. Despite the fact that India is home to a diverse range of religions, you may find peace and tranquilly at practically all of the country's tourist destinations. As a result, you will be able to get the most out of your vacation. Tours are held in various parts of the nation on a daily basis. Request a timetable of hiking excursions and wildlife trips from your vacation agency. You will feel more comfortable and protected if you have a tourist guide with you everywhere you go. Those who wish to tour India on their own, however, can plan their own trip. Your choice of tours will have a big impact on how memorable your trip will be.
The good news is that you may already see some of the country's wildlife reserves when climbing across the Himalayas. At any one time, you can accomplish two things. You will save time and effort in this manner. You can take another adventure excursion on your following day in India. When visiting a new nation, you only have a limited amount of time to see locations you've never visited before, so take advantage of as many trips as you can.